Home Page of MIDI Genie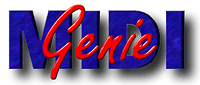 and
EarsNest
Browse Home.html under this URL if you don't like frame.
---
What's New?
Regrettably, the development of MIDI Genie has discontinued. MIDI Genie is a freeware now for everyone.
Please use the following information to register your copy. (All letters are in lower case.)

User name:
any user
Organization:
all
Registration code:
317822757
8th August
Announcing MIDI Genie 1.90!
Download MIDI Genie 1.90 from any of these links:
US Hypermart
US Tripod
Australian TIG

---
Need a program to play your collection of MIDI, Wav and AVI files just like albums?
Getting tired of the inflexibility and inefficiency of your MIDI player?
Then MIDI Genie is just what your need.
MIDI Genie is a program for Windows 95 and Windows NT 4.0.
If you either need a freeware or shareware MIDI player,
you can download MIDI Genie for free.
Only those who register MIDI Genie can enjoy the full features of the program.
Others will eventually use a less powerful player after 30 days of trial.
You only need to register once to enjoy all the advanced features.
NO UPGRADE COST FOR FUTURE VERSIONS!

---
Screen Shot of MIDI Genie1.90
What's new in version 1.90 (since 1.80)
Begin to support audio CD playing.
Now the whole program window is resizable, compatible with Full view drag of MS Plus!
Add files to the playlist from the second instance is now supported on Windows NT. Plus three options setting for handling new files
More advanced options for playing controls.
You may specified a customized MIDI reset file now
Can copy/move only checked files in the playlist, and recall recent folders that have been copied to
Now you can copy the current playing file in the Zip mode
A new "One Touch Cursor" toggle button to help those don't like to double click
A new Information Window for showing playlist summary, file information, and missing files in a playlist
"Multimedia Setting" command for quick access to the standard Multimedia Property
Remove files that cannot be played from the playlist automatically
New command-line parameters to enable and disable play modes
Features Summary:

Play mid, wav, avi and rmi files, as well as audio CD sequentially with playlist
Play files from Zip archives to save your precious drive space
Add files from second instance to the playlist and decide whether playing the the new file right away, either according to preset option or the choice of the user
Search all drives for files and add them to the playlist
Work with Netscape Navigator and other INTERNET applications
Show detailed information of MIDI files and generate playlist summary
A Track Bar for adjusting the playing position accurately
5 play modes: auto, loop, repeat, random and shuffle
Auto MIDI reset in GM, GS, XG or customized mode, plus manual system reset
Save playlist to file (.mpl) and validate retrieving playlist file
Move, copy, rename, delete files, create folder and remove folder without opening Explorer, no constraint even when the file is opened. auto save playlist file after changes in file name or path
Drag and drop to add new files to the playlist, rearrange order of files, copy and move file, and add all files in one folder to the playlist
Resizable window with different parts that can be hidden or shown, can always stay on top, or shrink to a small tray icon
Adjustable waiting time between files and skipping time to forward/rewind
Instant load the recent 15 playlists
Auto load the latest playlist and play the last file
---

Ziff Davis Net has rated MIDI Genie1.01
Click on the 5-Star Editors' Pick logo to read their review.

Download MIDI Genie Now!

---
E-Mail the author your comments, suggestions, bug reports, etc.
---
Home Download MIDI Genie FAQ MIDI Link Page Feedback About EarsNest
BACK TO TOP